Made in Italy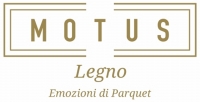 Marco Barbieri, CEO and founder at MOTUS LEGNO SAS, has been working in the market of wood flooring and timber for 30 years. He started as a sales representative in the field of wood flooring, but a few months later he realized that wood was a magical raw material that attracted and fascinated him very much. Subsequent years were fundamental to acquire technical knowledge and to convert his passion for wood into his profession.

These years also allowed him to improve and strengthen his relationship with many customers in Italy, as well as around the world.
He is what is called the self-made businessman, an open hearted, straightforward, decisive and optimistic man, - just the kind of man whom anyone who wants to get an idea of the Italian and international wood flooring markets may ask for advice.
The main character of the small exhibition hall of MOTUS LEGNO in Vicenza is wood. It is in every corner of the area and in any form, which helps a visitor to find merging with nature and gives his/her a sense of well-being and relaxation.
Marco shares this cozy space that smells like woods with Marianne, his wife and liable employee. Together, they provide true leadership, overcome daily difficulties and strengthen the structure and competitiveness of their small company that "can go a long way".
MOTUS LEGNO is a young, dynamical company with a ready-made offer of various product items, but at the same time focuses on personalization of its products. The range of parquet is very wide: from small two-layer parquet staves to wide three-layer parquet staves with various types of finishing.
In addition to standard parquet floors, the company produces modular parquet floors, such as herringbone, square, pointed, boarded, etc. parquetry.
It is also possible to manufacture an exclusive modular parquet of unusual shape encrusted with mosaics, metal or marble.

Of course, its main product is three-layered parquet boards that have a number of design features that make it durable, stable and able to withstand damp and temperature fluctuations.

The variety of wood species used by MOTUS LEGNO for the manufacture of parquet boards to make floorboards and skirtboards is quite generous, despite the fact that for many years oak remained a high priority. European and American walnut, chestnut, larch, olive tree, teak, wenge and many other wood species make it possible to satisfy even the most selective tastes of our customers.

For MOTUS LEGNO, the aesthetic aspect is very important, which is why the company's employees heed that desire of every buyer to create truly unique floors, keeping in mind technical aspects and details essential for the production of high-quality floors.

The high quality of the raw materials, production technology and experience make MOTUS LEGNO parquets prestigious products. "Made in Italy" is another value of MOTUS LEGNO products, which is not found in any other country in the world. This is a great treasure that is incredibly appreciated abroad. MOTUS LEGNO is a member of the Italian Chamber of Commerce.

Find out more about products of MOTUS LEGNO at:https://www.penatis.com/en/~MotusLegno